The Reality Fellows Program provides an opportunity for young adults (ages 21-28) to have a unique and unforgettable experience: a year living amongst, serving alongside, and learning from our community of friends with and without intellectual/developmental disabilities.

The Reality Fellows experience is an immersion in:
Daily life within a community of deep friendship
Discovering your own vocational gifts and aspirations
Transformative service toward those who are typically marginalized
Learning from our friends with I/DD, who have so much wisdom about following Jesus
Reality Fellows become an integral part of the Reality Ministries staff. They are entrusted with leading programs, building friendships with participants, and contributing their unique ideas and energy to our team! They receive lots of support from the staff, making it a really wonderful place to try out new things and grow into leadership.
In addition to the work, the Fellows experience is enriched in many ways, including: weekly reflection on their work; reading and discussing various materials on spirituality, theology, and disability; retreats; and countless opportunities for celebration with the staff and community.
During the year, the Fellows take up residence in the North Street Neighborhood (about a half-mile from the Reality Center), a community intentionally structured around people living with disabilities. Fellows can participate in neighborhood life in many ways, including prayer, meals, events, and many, many spontaneous porch hangouts (everyone there has a porch!). You will be living with one or two other Fellows in an apartment in one of the houses. Also, the area is very cool, with good food, parks, pubs, walking/running trails, and everything else you could want nearby.
Each Fellow receives a $600 monthly stipend, free housing and utilities, and at least six meals per week through Reality's programs.
We're now accepting applications for Reality Fellows 2021-2022!
Dates: The program will run August 2021 – July 2022.
All positions are filled for 2020-2021.
Meet the 2020-2021 Reality Fellows!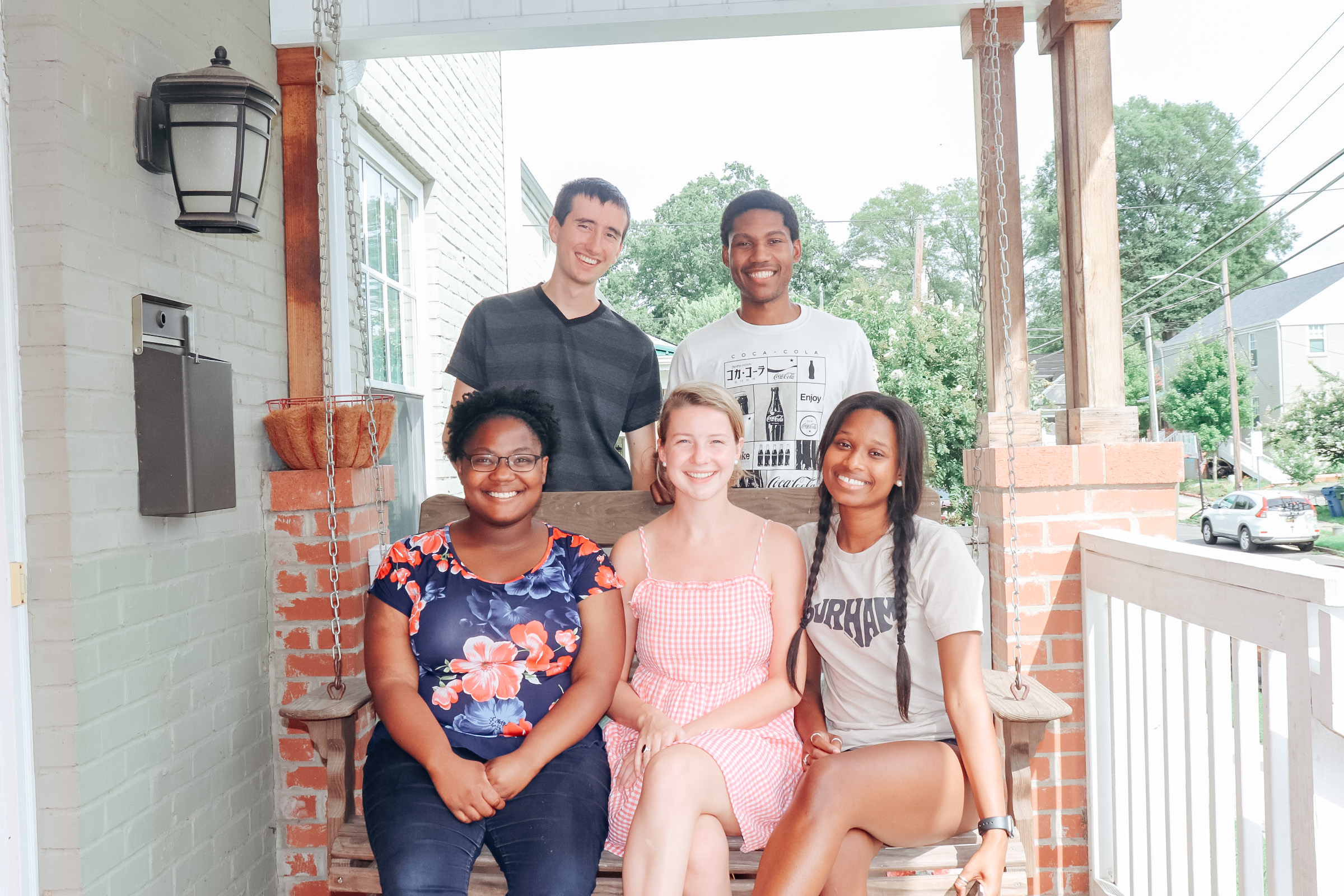 Angel Whitehead
Angel Whitehead grew up in Durham and began volunteering at Reality when in college. She recently graduated from Liberty University and is interested in teaching. Angel exudes joy, loves to dance, read, watch Broadway shows, spend time with her friends and family (especially her niece), and is eagerly anticipating the day when she gets to go skydiving.
Wallace Cameron
Wallace recently graduated from Meredith College with a major in Public Health and a minor in Biology and Psychology. She is currently pursuing a career in medicine, focusing on women's health. She's passionate about public health advocacy for women with disabilities. In her free time, Wallace enjoys running, hanging out with my friends, and shopping.
Shirley Garrett
Shirley has been volunteering at Reality since she was a freshman at Durham School of the Arts. She recently graduated from High Point University with a degree in Political Science and International Relations and  a minor in Spanish. Most recently, Shirley completed an internship at Democracy Fund, and hopes to pursue a career in law focused on disability rights advocacy. When she's not studying for the LSAT, Shirley enjoys caring for her many indoor plants and running.
Jonathan Mullins
Jonathan is from Fort Collins, Colorado and is a recent graduate of Wheaton College (IL). He studied (and studies) philosophy and community development, having lived and learned abroad in both Amsterdam and Argentina as a member of communities oriented around hospitality and friendship. He is an avid acquirer of questions about how and why people live in the particular ways that they do, as well as a reader, an aspiring poet-baker, an occasional hiker, and a cellist.
Madison Daniel
Madison is from Durham and recently graduated from Furman University with a BA in Public Health. He also ran cross country and track in college. His passions include running, investing in the lives of youth, and playing board games. Madison looks forward to building deep friendship with folks in the Reality community throughout the coming year.